As I announced at the end of my last post, this is the first post I am writing in English so do not wonder at mistakes or wird ways I express what I want to tell you.
Let's start with the week after I broke my wrist while snowboarding what I wrote about last time. During school time the next Friday, all international students went to Silverstar together where the buses stopped at Tubetown. After arriving there, we were allowed to ride down a slope of maybe 50 metres in a tube.
I went up the slope once which took me around ten minutes but finally standing on the top, my feet were freezing and even hurting because I did not have any winter boots yet. Anyways, I waited up there for five minutes until I could go down once. I was getting very fast and the wind blew through my face which was a lot of fun.
However, when I arrived at the bottom again, I directly entered the little room where we left all our backpacks and did not leave it again until we left towards the school again maybe two hours later because I did not want my feet to be that cold again, especially because the waiting time before I would be able to go down the slope again was very long.
But all in all, I liked the trip and at least, I did not have any school that day.
After one more week, Christmas break started and I was looking towards two weeks without school. Although I could not go skiing because of my broken wrist, at least the first three days were fine because I liked sleeping in and not having to do anything the whole day.
After these three days, I had an appointment at the doctor because of my wrist which turned out very well. I got rid of my cast and only had to wear a removable bandage for two more weeks but, of course, I was still not allowed to go skiing or do any other kind of sport.
The next days were pretty boring and not very special as I already thought before but at least, I was talking to my friends back in Germany almost daily for a few hours who I did not talk to for over two months before and while watching movies, playing video games and going for some walks, the time went by fast enough. Besides, I started to go to bed later and later and therefore waking up later and later, too, wherefore I slept from around 5 am to 3 pm when Christmas approached.
At the evening of December 24th, I went to church with Gordon and Sally which was very interesting although I do not believe in any religion. The church itself is much more modern than German ones and the service existed of much more talking and less reading and singing than what I was used to from Germany.
Afterwards, we had a big supper with Karen, Andrew and Milo who came next door to eat and play several card games with us afterwards. It was a very nice evening and finally, Milo, who slept around the same time I did, and I decided to stay awake until the morning.
We spent the whole night playing video games, eating very tasty cookies Gordon and Sally made a few days ago and talking to my friends in Germany until the sun rised again. We went upstairs and met Gordon and Sally who were putting the last presents under the tree.
After waiting for Andrew and Karen for maybe an hour, we started to open our presents together. I received a Starbucks-Cup and a gift card for the cinema from Karen and Andrew and the book "And Then There Were None" by Agatha Christie, a Tim Hortons and Google Play gift card, as well as some other stuff from Gordon and Sally. Finally, Milo gave me a white shirt I really like but I only had some chocolate from Germany for him so I felt really sorry for him.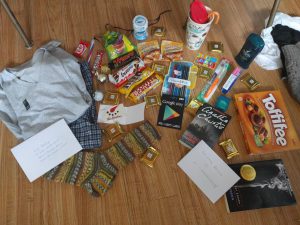 After we had a big breakfast including fried eggs and bacon, Milo went next door again to get some sleep but I did not want to go to bed so I turned on my computer and talked to my friends from Germany again who had celebrated Christmas more than a day ago.
A few hours later, around 5 pm, Gordon and Sally finished preparing the turkey we were having for supper a few minutes later. It was very delicious and I am sure that turkey will be one of the things I will miss the most when I come back to Germany next summer.
Then, everybody stayed upstairs and after the last person finished enjoying the food, we started to play different card games like Phase 10 and Dutch Blitz again. That evening and basically the last days were really nice and spending more time with my host parents Sally and Gordon as well as with Richard, Karen, Andrew and Milo was fun but when everybody started to leave again around eleven o'clock, I finally decided to go to bed after staying awake for 33 hours.
Therefore, I woke up at 2:30 pm the next day after I was sleeping for 15 hours.
Looking back at the last days, they did not really feel like it was Christmas but I really liked them anyways and just sitting around together and playing different games was great fun!